Most of the time, I don't really consider myself a blogger. Nor do I think of this website as a blog. (This is mostly because I absolutely hate the term "web-blog." It sounds like something you would give to a dog for constipation.)
I don't post on a set schedule, I don't cover a single topic, and I most emphatically do not believe in transparency. This website is here primarily to give me a place to run at the mouth.
With all that said, in the past few days I've run across a number of awesome things. And I've found myself lamenting (maybe for the first time ever) that I don't have the time to be a do proper write-ups. Most of them deserve to be shared.  Thus, today I figured I would do a mind-dump of cool stuff.
What follows is a collection of awesomeness that has been culled from my readings and web-wanderings. There is no order, or logic. Hopefully you'll find something beautiful and enjoyable.
Styrofoam Cup Art
The other day, Don't Panic Magazine highlighted the work of Cheeming Boey, who transforms disposable garbage into beautiful art.  They're beautiful, and awesome (even if drawing on styrofoam is kind of crazy).
Boey explains his madness like this:
You draw on styrofoam cups. But we throw those away! That's crazy! Why do something so crazy?

I didn't think it was crazy. People draw on napkins, receipts, wood. I was outside a coffee shop and had the urge to sketch while  people watched. I found a foam cup on top of a trash can, and it was all I had, so that was what I worked with.

It turned out nice, and I kept it. Then I made it a point to collect more, so I drew on more cups.

One day a co worker asked what I was going to do with all the cups I had around my workspace, and I said," they're nice, maybe I can sell them one day." To which he said, "no one is going to buy that crap." And here I am.
Here are a few examples of his cups. There are more on his Flickr page. If you like them, you can purchase one from Etsy.
Hvass & Hannibal
While browsing about on the website, The Fox is Black, I found a fabulous post about the work of Hvass & Hannibal. Hvass & Hannibal is a design duo based out of Denmark. They do really cool things with mixed media, origami, and color. Looking at a few of the pieces in their portfolio, I actually found myself wondering if there is anything they don't do.
The pictures below show their facility with posters, paper, and paints.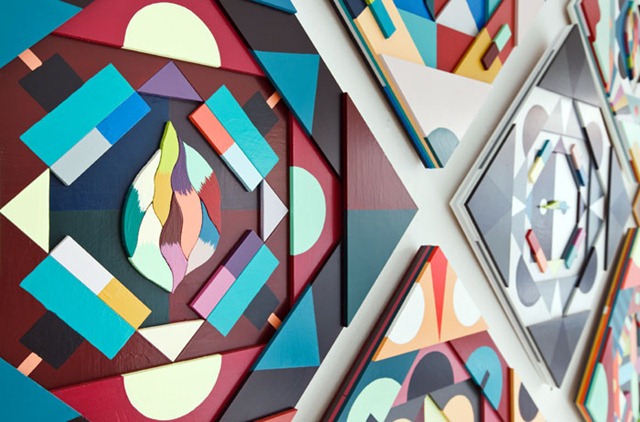 Book Cover Infographics
This last piece is also something I saw on the Fox is Black. It's the cover for a book of illustrations called "We are the Friction," created by Jez Burrows. I'm a little put off by the 2 horse deaths and wanton sex act (but apparently, there's only one of them), but I really like the chaotic combination of type, stylized illustration, and … transparency. (It's pretty clear what the book is about.)
In a lot of ways, it feels positively Victorian, although modern. (And no, that's not supposed to make any sense.)